Washington Bikes is working to support HB 2587 to bring scenic bikeways to Washington. The bill is modeled after Oregon's scenic bikeways program and will bring economic and tourism benefits to communities across the state.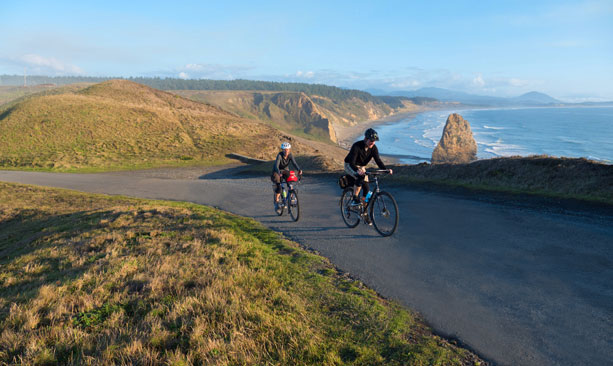 We know that bikes mean business – whether it's increasing active transportation access to neighborhood shops, or through bike tourism, bikes bring in an annual $3.1 billion to Washington state. That's why bringing a Scenic Bikeways program to Washington is a win for rural communities as well as the people who'll use the scenic bikeway network to explore our beautiful state by bike. 
Broadly, Scenic Bikeways are official state designated routes that showcase incredible scenery. Washington Bikes testified before the Housing, Community Development and Veterans Committee in support of HB 2587 Jan. 31. This legislation is prime-sponsored by Rep. Alex Ramel, the newly appointed House member from the 40th legislative district. Ramel testified in support of the bill, "The scenic bikeways program supports rural communities, small business, healthy exercise, and low-carbon recreation." The bill requires the Parks and Recreation Commission to establish a scenic bikeways program for the designation and promotion of bicycle routes of notable scenic, recreational, cultural, or historic value. 
How the Scenic Bikeways program would work:
Any person may propose the designation of a scenic bikeway route. The State Parks Commission will provide an opportunity for public comment on the proposed scenic bike route before determining a scenic bikeways designation.

The Parks Commission will review, approve, and locate routes in ways that encourage local economic development in proximity to the route. The Commission must prioritize designating scenic bikeways that will add variety to the geographic location, topography, route length, and difficulty, as well as cultural, historic, scenic, and recreational value of the scenic bikeway system or that will complete existing bicycling networks

The Commission must review proposed scenic bikeways in consultation with the Washington State Department of Transportation (WSDOT) and confirm that the proposed route meets the criteria as well as being a comfortable and logical route of travel for a person bicycling.
Alongside Washington Bikes, Todd Starnes of Bicycle Adventures testified in support of the bill:
"Bicycle tourism means business and the best kind of business. Bicycle tourism is supplemental to the economy – it brings new business to places that may not normally see tourism revenue…cyclists stay longer, eat more, drink more, and do more than the average tourist traveling by bus or car." – Todd Starnes.
HB 2587 has just passed off of the full House floor with an almost unanimous vote of 96-1. Next the bill will be sent to the Senate for further consideration. Check the WA Bikes blog to see how the legislation progresses and how the Scenic Bikeways program is implemented.